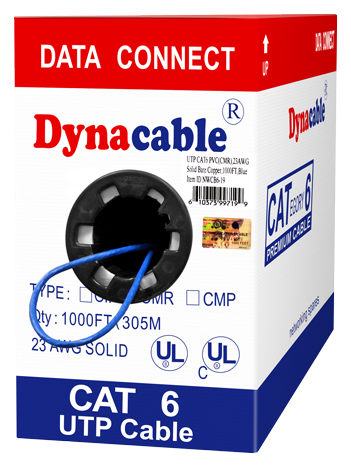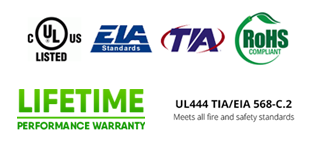 1000ft Ethernet Cable Boxes
Cat6 Bulk Cable – UTP – 23 AWG
---
Upgrade Your House Or Office To Cat6 Ethernet Now
Our 1000 feet bulk cable boxes are the easiest pulling boxes you'll ever buy. No more kinks or bending at all when pulling wire out. Guaranteed for a smooth installation, our easy-to-pull boxes will make your punching down and crimping ends very simple. You won't experience any breaks in the entire run. The center 4-way plastic divider keeps each pair separated from the others and makes unwinding and stripping easier.
With OVER A MILLION of our spool boxes sold locally to technicians and contractors, your easy-to-pull box is ideal for connecting VOIP phones, Internet, Networks, TVs, Security cameras, New constructions, and more. You can now enjoy maximum network speed. For home owners, you are able to wire an entire house with just one box.
---
100% Pure Copper. Unlike cheaper CCA (Copper Clad Aluminum), all our bulk cables are bare copper conductor wires – the highest quality available
Lifetime Performance Warranty covered by DynaCable®
Suitable for up to full 10-Gigabit connections.
Four (4) UTP Unshielded Twisted Pairs
Durable PVC Jacket with FOOT MARKINGS so you can easily track the amount of feet left in the box (2-foot intervals)
High Performance 23 AWG Conductor Gauge
Sturdy center plastic spine divider that eliminates cross talk
This month only: Free US Shipping on all bulk cables!
---
CM
In-Wall Rated
These are for general purposes and our most popular selling bulk cable boxes. They are very flexible and can be used between walls and floors. Ideal for most residential applications like homes and apartments.
CMR
Riser Rated
These are very similar to the CM pull boxes but designed for high rise buildings and commercial offices. The wire is very stiff and has a thicker jacket so it's useful for vertical applications between floors. Riser rated bulk cable is engineered for safety to prevent fire from spreading from one floor to another.
CMP
Plenum Rated
Plenum is required when you're running cable through any space that air flows through. A good example are suspended ceilings, air ducts, or stud bays used for air return. The fire-retardant jacket on this cable is engineered to burn extremely slowly in case of any fire and won't release toxic fumes.